For Sellers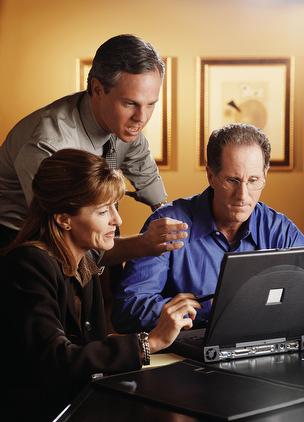 Why Sell with Us?

There's no doubt about it. Your real estate agent has a huge impact on whether or not your home sells quickly, how much you get for your property, and your experience throughout the process.
So you'd be smart to ask, "Why should I sell with you?"
Our personal commitment - A well informed client is a happy client so when you work with us you will be guaranteed that we will keep you informed every step of the transaction from start to finish.

As Royal LePage professionals, we have the training and experience to guide you through every step it takes to sell your house.
We will enter your property into the Multiple Listing Service (MLS) in your area, which promotes your house to other Realtors.
We will prepare Royal LePage photo display boards, a full colour photographic showcase of your home's finest points to be displayed at two highly visible locations.
We will document all of your home showings in our personal designed listing log.
We listen carefully to your needs and goals, and keep those top-of-mind throughout the process.
We're accessible and never more than a phone call or email away.
We will market and promote your home to qualified buyers.
We will assist in contract negotiations and guide you through the financing and settlement process.
We create an excitement in the marketplace about your listing. We tell our other private clients about it. We spread the word to other agents.
We can get results for you.

As Royal LePage professionals, we stay on top of changes in today's real estate market.  That means we can give you every possible advantage, we are backed by the strength and resources of one of the nation's largest real estate organizations.
If you are relocating anywhere in the country we will help you as well, you can depend on us.

You have our personal and professional commitment to make your experiences in selling your home an exciting and happy one.
 
Get Ready to Sell: 8 Tips for a Faster Sale
So you're ready to sell. Whether you're moving up or moving on, here are some basic tips from REALTORS® who know what it takes to make a property appeal to prospective buys and sell it fast at a price you'll be happy with:
1. De-personalize.
Put away family photos, trophies, and cute little name plates by the front door. When prospective buyers see things like that, they have trouble picturing themselves living there.
2. Lose the clutter.
Buyers want to see space, not jammed closets and crammed countertops. Clutter makes them think there won't be enough room for their stuff.
• Put away knick-knacks and photos. Leave tabletops, dressers and kitchen counters clear.
• Store extra clothes to make closets look spacious.
• Get rid of the junk in the garage and the attic so buyers can really see the storage space. Get rid of what you don't want, and put the rest in storage.
• If you want to keep your grandmother's heirloom chandelier or your expensive window coverings, replace them with something you don't mind leaving behind. If buyers don't see it, they won't ask for it.
3. Clean, clean, clean.
Show your house at its best with sparkling windows, spotless carpets and shining bathrooms. In bathrooms, re-caulk tubs, bleach dingy grout, polish faucets, and clean mirrors and glass. Clean the kitchen from floor to ceiling, including walls, cabinets (inside and out), stovetop, backsplash, range hood and appliances. Keep things show-ready by hiring a service to come in a few times a week until the house is sold, or give every family member specific duties so you can get the house in shape fast for showings.
4. Freshen up.
Odors are an instant turnoff; they make buyers think the house isn't clean. Open up the windows, clean the carpets, use air fresheners, change cat boxes every day, use a dehumidifier in the basement, and stop smoking inside.
5. Stage it.
Make your space look bright, spacious and modern with a few simple touches:
• Make up the guest room with fluffy pillows and a pretty comforter.
• Hang your nicest towels in the bathrooms.
• Paint the main rooms in a fresh, neutral colour.
• Put new hardware on outdated kitchen cabinets.
• Wash your curtains or hang new ones.
• Arrange your furniture to maximize space, then store whatever doesn't fit.
6. Fix it.
Make sure taps are easy to turn and don't leak, check for leaks or dampness in the basement, ensure windows and doors open and close easily, fix broken appliances and replace burned-out light bulbs. If you don't fix the small stuff, buyers will assume it's a sign that you haven't taken care of your home, and the big stuff isn't in good shape either.
7. Up the curb appeal.
Cross the street and take a good look. How does your house look when you compare it to your neighbors? What needs to be done to give it that "wow" factor?
• Nice landscaping can really sell a house. Trim the bushes, and keep your lawn green, evenly cut and freshly edged.
• Refresh the front door. Clean it, polish the hardware, and give it a coat of glossy paint.
• Rent a power washer and clean the exterior. Replace damaged shingles, loose siding and old caulking.
• Paint the house if you need to – a few hundred dollars worth of paint could add thousands to your selling price.
• If you have a pool, keep it clean and well-maintained.
• Got kids? Put away outdoor toys, and if you have a play structure, take it down so your yard looks roomier.
8. Set a fair price.
If you set your price too high, then drop it, your house will be "old news" and will end up being much harder to sell, even at the lower price. Talk to your REALTOR® about a realistic asking price that will help your place sell quickly – and help you maximize your investment.
Buyers like houses that are clean, well taken care of and up-to-date. Don't break the bank on big fixes, but remember that small improvements can make a big difference. You may have some work ahead of you, but every bit of "elbow grease" you put into your place will pay for itself.
How to Determine Your Asking Price
You obviously want to sell your house for the highest possible price. You may even have a number in mind.  You may be concerned that:
If you list your house too high, few buyers, if any, will see it.

If your price is too low, you could end up leaving thousands of dollars on the table.
We're experts at creating a pricing strategy that will pique the interest of qualified buyers – and set the stage to get you the highest sale price possible. We're also specialists in the local market.
We begin by getting to know your property and all its desirable features. Then we make some calculations to determine its Current Market Value. That value is based, in large part, on what similar houses in the area have sold for recently.
Of course, buyers won't pay for the sentimental value you place on your house. But special features such a newly renovated kitchen or bathroom, or a beautiful backyard patio can have an impact on how quickly a property sells and for what price. We'll help you understand all the factors that go into setting the list price, and ensuring it is just right for the marketplace and your goals.
How to Attract Qualified Buyers?
When you list your house, it must attract the attention of qualified buyers eager to get into a property like yours. Otherwise, your house may take longer to sell and you may not get the price you expected.
As experts in the local market, we can get the word out about your listing to all the right people. We know how to attract serious buyers – so a good offer comes in quickly.
To achieve that success, we'll implement the appropriate marketing plan. After all, there's more to selling a house than hammering a For Sale sign on the front lawn. We'll work closely with you to create a marketing plan which may include some or all of the following:
Taking pictures and gathering the details on your property;

Writing a compelling property profile and creating effective marketing materials;

Uploading your listing to MLS – the Multiple Listing Service that real estate agents and buyers use to search for properties;

Showcasing your listing on my popular website;

Leveraging the internet and social media to promote your listing;

Scheduling and promoting an Open House to attract a multitude of buyers.
In addition, we meet with buyers regularly. In fact, the moment your house is listed we get in touch with everyone we know who is looking for a property like yours, and encourage them to schedule a viewing. We also tap into our network of other real estate agents so their clients know about your property as well.
Our job is to get the right buyers to see your house, fall in love with it, and make a good offer.
How to Handle the Showings
Private viewings and open houses provide opportunities for buyers to view your property and get a sense of what it is like to live there. Ideally, you will want them to be impressed by what they see.
As your real estate professionals, we ensure we maximize the potential of every viewing and open house. To accomplish that, we advise you on how best to prepare your property, we market it to qualified buyers, and then, at showings, draw their attention to the great qualities of your house.
When it comes to scheduling for showings, we coordinate with you to select days and times that are as convenient as possible. Obviously, we encourage you to be as flexible as you can, as that will enable more buyers to see your property. Weekends, in particular, are popular for viewings.
We take care of all aspects of scheduling viewings, as well as planning and hosting open houses.
We realize viewings and open houses can be a little inconvenient. As your real estate professionals, we will do our best to minimize the disruptions.
Dealing with Offers
When selling your house, there are few things more exciting than receiving an offer. That means someone is interested in your property and has prepared a offer to buy it.
What is an offer, exactly?
It's simply a legal document that shows the price the buyer is proposing to pay, which may or may not be the same as your listing price. An offer will include other details, such as the requested closing date, subject to finance and home inspection.
Ideally, when you receive an offer, you will want to sell your house to that buyer for the highest price possible. In addition, you'll want to make sure there are no potential problems that might prevent the deal from closing – such as the buyer being unable to arrange financing.
As your real estate professionals, we'll take care of all the details. For example, we will:
Review the offer with you and explain everything clearly.

Give you our professional assessment as to the quality of the offer. If there are things that concern us, we'll point them out to you.

Advise you on whether to accept the offer, reject the offer, or make a counter-offer.

Prepare a counter-offer, if necessary, that gets you a better deal, without risking the sale slipping through your fingers.

Skillfully negotiate with the buyer on your behalf, so you sell your house for the highest price possible.

Prepare all the necessary documents, and work closely with the buyer and his or her agent, to make sure the transaction goes through smoothly.

Communicate with you throughout the entire process. You're never in the dark when you work with us.
How to make sure your Move goes Smoothly
There are few things we enjoy more than telling a client, "Congratulations your house is sold." That means we have found them a qualified buyer, got them the price they wanted, and negotiated a great deal.

That doesn't mean our work is finished. Far from it.

As your real estate professionals, we'll work closely with you to ensure the deal is finalized and that your move goes smoothly.

We'll also be there for you, as your real estate experts, up to the day you move – and beyond. We provide you with the names of recommended lawyers, contractors, movers, etc. from our network of reputable professionals and companies. We'll also clearly explain what to expect leading up to closing day and give you advice as to how to prepare.
Trademarks owned or controlled by The Canadian Real Estate Association. Used under licence.